The Halloween franchise may have released its latest movie less than a year ago, but the trailer has already dropped for the latest installment, Halloween Ends.
The Halloween Ends trailer features what looks to be the final battle between Laurie Strode (played by Jamie Lee Curtis) and her long-time nemesis, Michael Myers (Nick Castle and James Jude Courtney). This third film also brings to an end the trilogy that began with 2018's Halloween. It is also the 13th film in total in the Halloween franchise, which could be very unlucky indeed for any character who gets in the way of "The Shape."
Jamie Lee Curtis' last appearance as Laurie now has a release date, a cast list and a plot. Here's what we know so far about Halloween Ends.
When Is Halloween Ends Coming Out?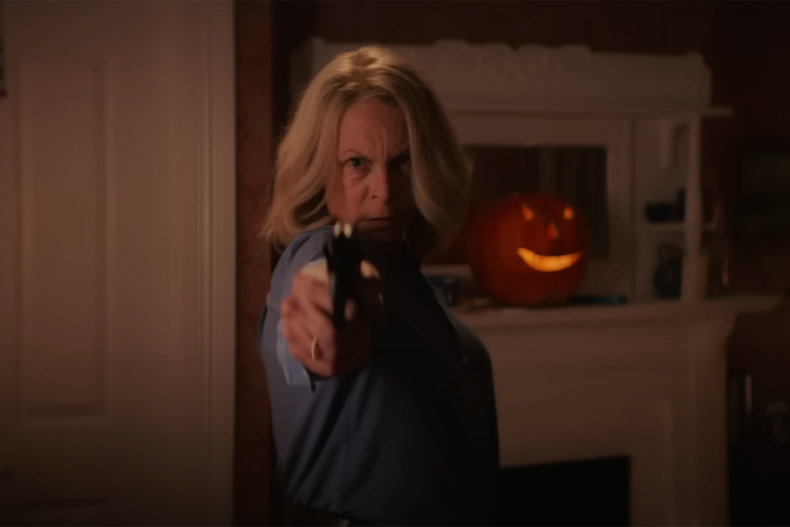 The release date for the latest Halloween film is Friday, October 14—almost exactly a year after the release of Halloween Kills.
That last Halloween film came to Peacock at the same time that it came to theaters. This does not seem to be the case with Ends. According to its trailer, the film is "in theaters October 14," with no reference to Peacock.
This seems to suggest that the film will take the same route that multiple Universal films have taken and will have a Peacock release date 45 days after the initial cinema release. This should mean that the film should be streaming on Tuesday, November 29 (though they may save it to release on the Friday, which is December 2).
Who Is in the Cast of Halloween Ends?
Halloween Ends is led by three characters: Michael Myers, Laurie Strode and her granddaughter Allyson (Andi Matichak), with whom Laurie is living with at the start of the film.
However, a number of other cast members have been confirmed. Real Housewives of Beverly Hills star Kyle Richards, for example, is back as Lindsay Wallace, the role she first reprised in Kills after first appearing in the 1978 Halloween as one of the kids that Laurie babysat. Yellowstone's Will Patton will also be back as Deputy Frank Hawkins, the role he has played in all three of the most recent Halloween films.
As for new cast members, we have Hardy Boys star Rohan Campbell as Allyson's new boyfriend Corey and Guiding Light's Michael O'Leary as Dr. Mathis, a character first introduced in the new movie.
What Will Happen in Halloween Kills?
The official plot synopsis reads: "Four years after the events of Halloween Kills, Laurie is living with her granddaughter Allyson and is finishing writing her memoir. Michael Myers hasn't been seen since. Laurie, after allowing the specter of Michael to determine and drive her reality for decades, has decided to liberate herself from fear and rage and embrace life. But when a young man, Corey Cunningham, is accused of killing a boy he was babysitting, it ignites a cascade of violence and terror that will force Laurie to finally confront the evil she can't control, once and for all."
The trailer does not get into this plot at all. Instead it gives us what all fans want to see, a final battle between Laurie and Michael Myers. Who will win this battle is up for interpretation—Laurie does seem to manage to stab Myers in the hand, but then he nearly puts her hand into the garbage disposal unit of the sink.
One thing is for certain, however. The trailer promises that "this Halloween, their saga ends." Until Universal inevitably decides to renew it in a few years, of course…